Love your Romeos? Obenauf's Heavy Duty LP is a must-have for getting the most out of your Georgia Boots.
ROMEO SIZE TIP: Don't purchase wide Romeos unless you actually need them. I've made this mistake and I've seen it happen a lot. Romeos are very snug when you first get them, it takes about a week to break them in. Buying a wider size will make them feel like they are already broken in, but if you don't have a wide enough foot for that sole, you will likely end up with a split sole (usually your driving foot) and split stitching where your foot bends in 3-6 months.
If you're like me, Georgia Romeos are a necessity in your wardrobe. Every year or so you 'upgrade' to a new pair and your old ones get moved to second-string, reserved for yard and garage work and playing in the dirt. I always tell myself, I'll keep the new pair nice, but I have a bad habit of forgetting to change my shoes going from the work at the office to work at home and scuffing up my new leather shoes. Instead of kicking myself for ruining another pair of "Office Romeos", I take the time to show my Romeos a little love every six months with Obenauf's Heavy Duty LP.
WHAT YOU WILL NEED

1. Georgia Romeos or other leather shoes or boots

2. Obenauf's Heavy Duty LP
 (Buy online or visit your local Wilco's footwear department)
3. A soft rag like an old t-shirt or a paper shop towel
(regular paper towels are too abrasive)
If you don't want the Obenauf's to get on your surface or you don't like the idea of setting your shoes on your kitchen table, use a newspaper or drop cloth. Some people may also prefer to wear gloves (I don't mind, a little Obenauf's wouldn't hurt my dried, leather-like hands).
STEP ONE
Take the rag and use it to scoop out a small amount of Obenauf's from the tub.
A little bit goes a long way. It's taken me over three years to go through half of a 4 oz. container.
STEP TWO
In a circular motion, buff the Obenauf's on the leather parts of your boots until it has all been absorbed. Try to avoid the soles and other non-leather parts so as not to waste or end up with slippery soles.
You may need to use the rag to get a little more to finish off the shoe. The shoe is finished when all of the leather has absorbed an even layer of the leather preservative.
Repeat the process with the second shoe. When you are finished you will have conditioned Romeos that will repel water, resist scuffing, scratching, and premature cracking.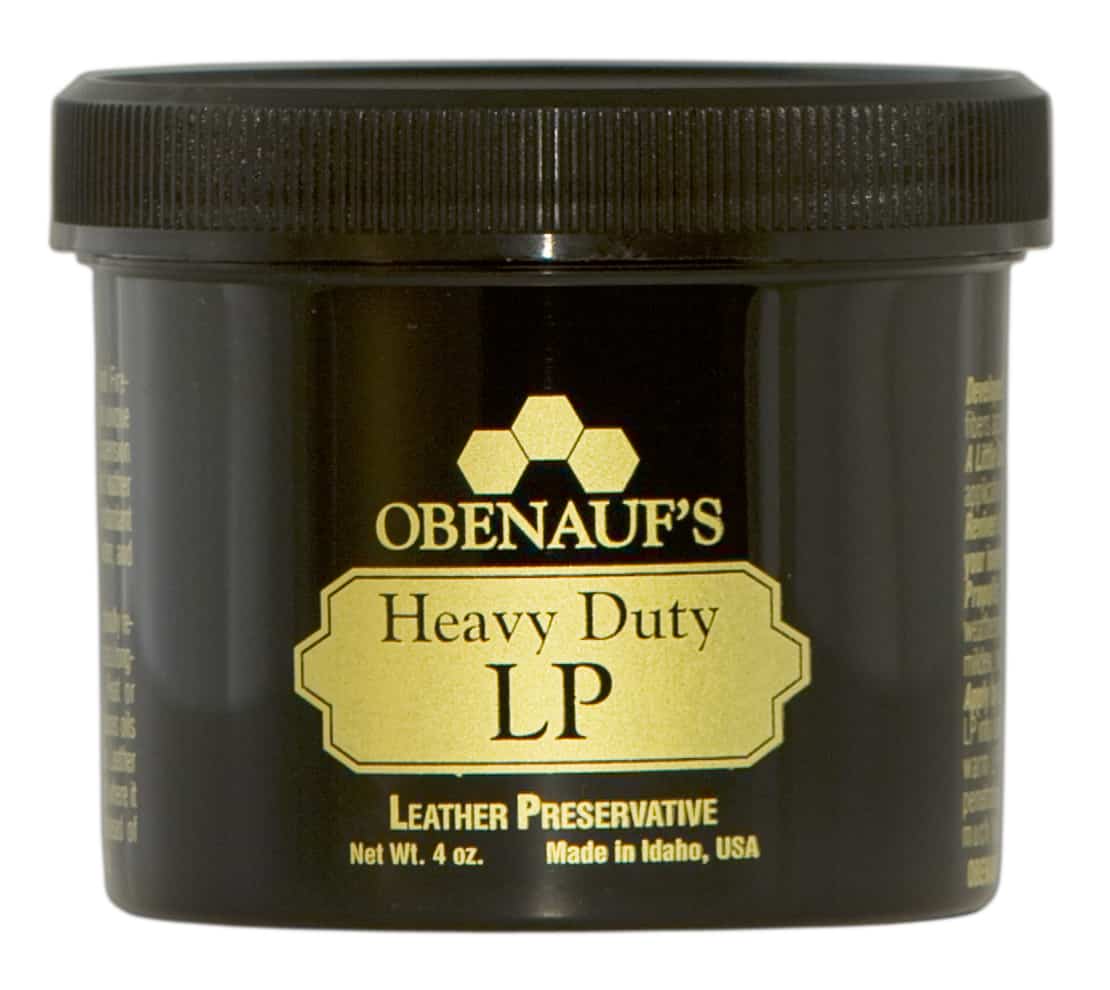 Protect your boots from the elements! Heavy Duty LP (Leather Preservative) is the best leather conditioning available. Heavy Duty waterproofs, preserves, restores, and conditions leather shoes, boots, saddles, motorcycle leathers, tool pouches, leather sports gear, and more. It provides industrial strength protection for leather that gets exposed to harsh environments.
Repels water, acids, petroleum, salt, and chemicals.
Restores dried & sun-faded leather.
Prevents dry rot.
Resists mold, mildew, and bacteria.
Resists scuffing, abrasion, stitch tear, and premature cracking in flex areas.
Odorless after applied (will not spook game).
Contains no harmful solvents, petroleum, or paraffin.
For tall leather boots, 4 ounces should provide 4 applications.
Apply every 6-8 weeks for maximum protection.
IT'S NEVER TOO LATE TO OBENAUF YOUR ROMEOS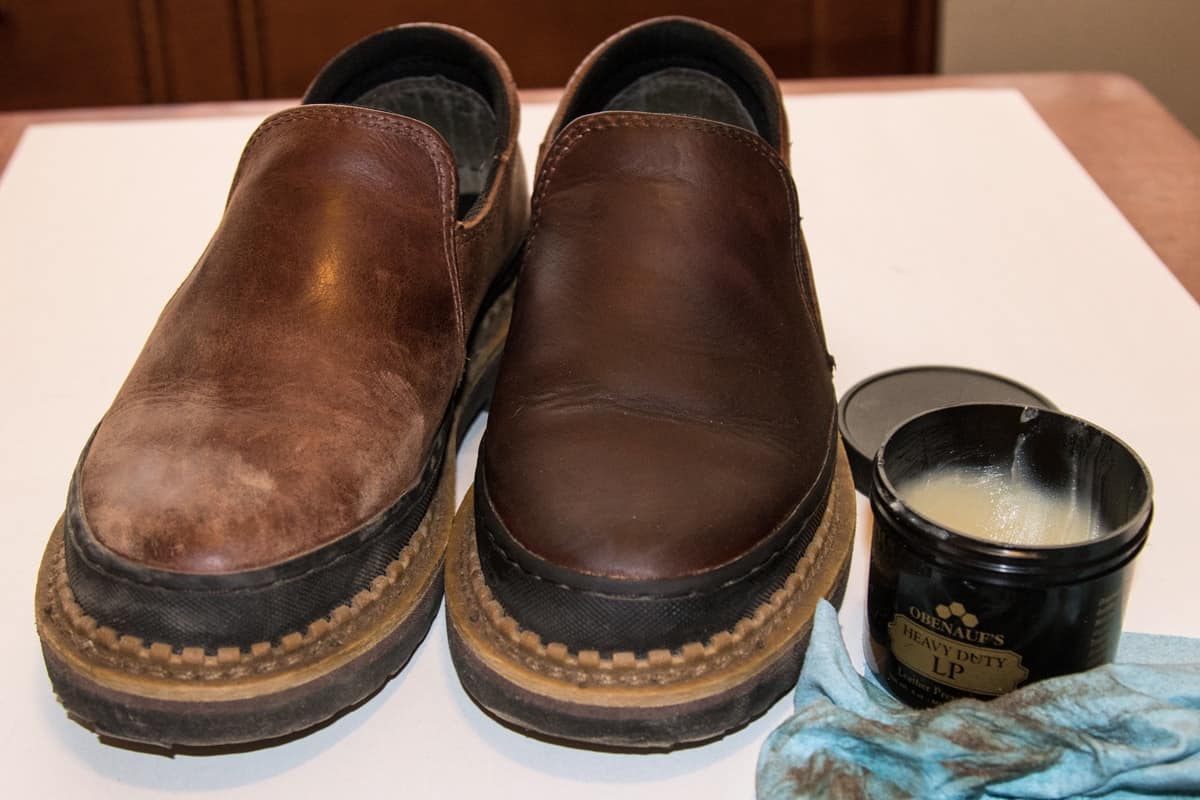 Even if you have had your Romeos for awhile, like I have had these, it's not too late to add a little protection. The shoe on the left is the before, on the right is after Obenauf's – this was the first time these were done.
RESTORE YOUR OLD ROMEOS
Whenever I get a new pair of leather shoes or boots, I make it a point to re-Obenauf all of my Romeos. This habit helps me prolong the life of my "work Romeos", which are some of my most comfortable shoes. The shoe on the left is the before, on the right is after Obenauf's – these have been done about every 6-9 months for the past three years.
New or heavily-used, whatever condition your Romeos are in – they will be better with Obenauf's. Giving Romeo's as a gift this year? Give them a head start by gifting Romeos already treated with Obenauf's. Or stick a container in the box with them.
---
We would love to see your fashion finds, use #mywilcolife on Facebook, Twitter, or Instagram and tag Wilco Stores.