What to do in the Garden Now and Making New Year's Resolutions
As I walk out into my garden on this January 1, the first day of 2018, my mind swirls with all the things I want to do. I see shrubs that need pruned, and some of them, rather severely as they have gotten way too big for where they are planted. Then I see other plants that need to be moved because they are not happy in their current location and I am not happy with them because I know they would perform so much better if they were transplanted. My garden has many containers throughout, and some of the plants have gotten too big and need to be either moved to a larger container or planted in the ground. There is so much to do that it can become overwhelming, but little by little, I can get it done and this is a perfect time of year to transplant and prune some shrubs.
But first things first and as I look around my garden, I can see some purple flower buds of hellebores peeking through the soil. I realize that I still have not removed the old leaves from last year, so my first task will be to cut off these leaves.
A word of caution; be very careful when cutting off the old leaves as it is easy to cut too close to the crown of the plant and accidentally cut off a new leaf or flower bud.
Also, even though we have had some cold weather, slugs are still active and those very small slugs will crawl on a new flower or leaf bud and eat it. Once they have taken a few bites, those holes will be there the rest of the season. Check your plants and if you see signs of slug damage, this is a good time to apply a light application of slug bait.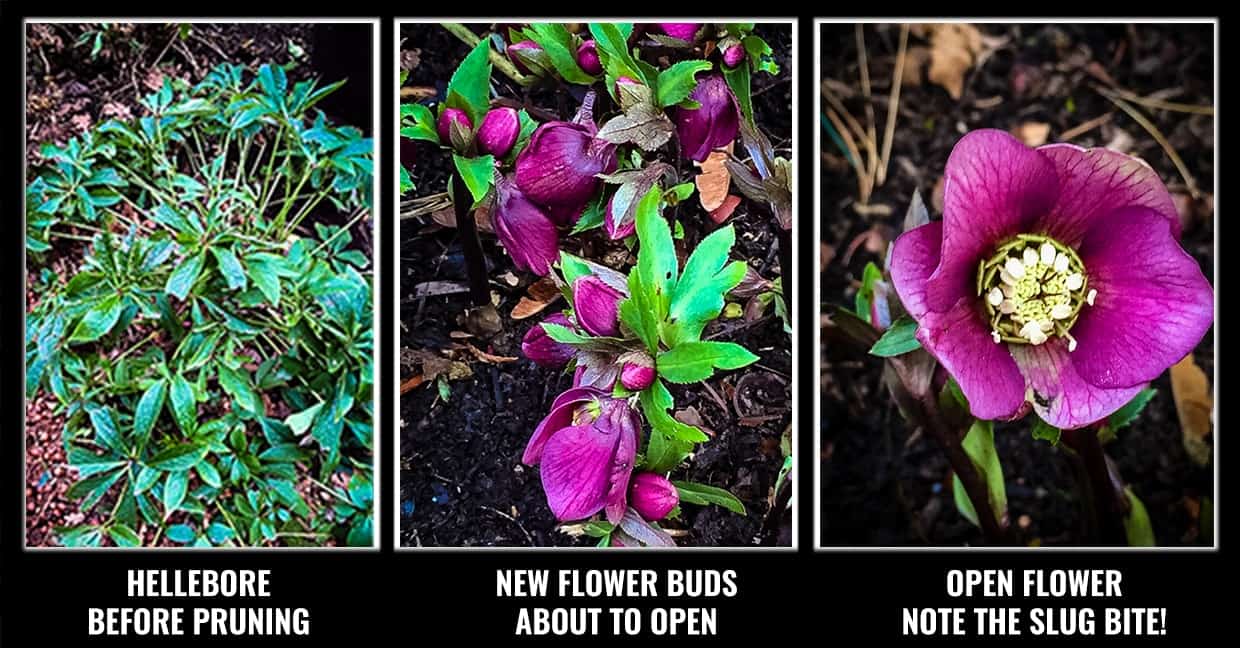 Several years ago, I was at a lecture and the presenter talked about "editing" the garden. By "editing", she meant removing plants. She said that it is much easier to edit in the winter than in the spring and summer when everything is growing and looking good.
Her advice was to go out in the garden on a cold blustery day and make decisions on what needs to be edited and then follow through on those decisions This might be called 'tough love' for plants.
One of my new year's resolutions is not to buy any new plants until I have everything planted from my previous trip to the garden center. This is a difficult resolution, my intentions are always good but who can go to a garden center and not buy a plant? And who cannot go to a garden center on a sunny spring day? Three other resolutions that are pertinent now. Are my pruning shears sharp? Do I have a good pair of garden gloves? Do I have a pair of garden shoes that are easy to get on and off and are easy to clean? The answer is "yes to all three". I think I am ready to begin editing!